Union Vote is Here!
We have been working hard to build this union and the next big step is here – the union election.
The election will be held by confidential mailed ballot and will ask if you want to be represented by City of Portland Professional Workers Union (CPPW). A Yes vote is a vote to have a voice on issues that affect our lives at work and at home!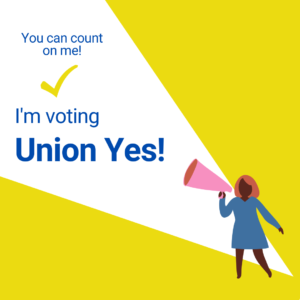 Your official ballot is due Monday, June 5 by 5pm.
The State of Oregon Employment Relations Board conducts the election and must receive your completed ballot by 5pm on June 5th. Didn't get your ballot? Move recently? Go here for information on getting a new ballot.
Haven't mailed your ballot – don't risk a late arrival. CPPW Leaders will take your ballot to Salem for you. Contact us about pickup! Email [email protected] or text (503) 893-8751‬
Every single vote counts. A majority Yes vote means that we are an officially recognized union and can start bargaining our contract!
Are you planning to vote yes?!?! Fill out this quick form to let us know that you are committed to voting Union Yes! 
Wages, benefits, leave, overtime, remote work – these are all issues that we can bargain around together! A strong Yes vote in the election gives us more power to win a strong contract at the bargaining table.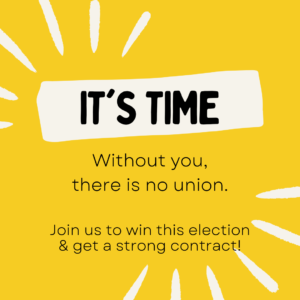 Get Involved!
Here's how you can be a part of this exciting moment to build our union:
Table Talk: Union members & supporters will be tabling on 5th Ave outside the Portland Building. Come get your questions answered, get your union swag, and drop off your ballot at the CPPW ballot box!
Tuesday, Wednesday, Thursday from 12-1pm
Old fashioned Phonebanking & New fangled Texting: We want to talk to every single member about the election and the union. We'll be calling and texting to learn about members' top priorities and making sure they get their ballots in.
Email us to get plugged in!